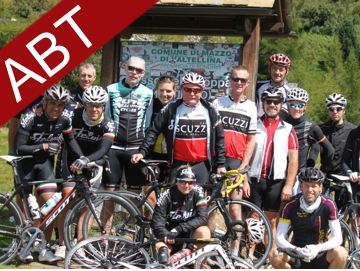 Monday through to Saturday we offer accompanied group rides with our guides to ride with you and cheer you on, kit bag transport and photographs of your efforts along the way.
Our longer loop rides also include van and mechanical support, refreshments and snacks to keep you riding strong.
The accompanied group rides have a structured weekly schedule listed below.
How can I join the Stelvio eXperience ABT group rides?
• Book a Stelvio eXperience package at any one of our PARTNER hotels and you be able to join our epic daily ABT group rides.
• Just ask for your RED wristband when you check-in to your hotel in Bormio to identify yourself as a SteX Cyclist.
Where is the meeting point and what time do I have to be there?
• The meeting point for our daily ABT group rides is the Stelvio Experience HOUSE located at Via Stelvio 5, at the start of Stelvio climb in Bormio.
• Every day we meet for a pre-ride briefing and coffee before setting off for the ride.
• Start time is 9:00am but try to be there a few minutes before so that you will have time to meet and mingle with the group before we leave.
What is the maximum availability for the ABT group rides?
If you book your holiday with one of our PARTNER HOTELS you have guaranteed access providing your ride booking is made more than 7 days prior to arrival.
Please book online or through your hotel reception to ensure your place is reserved.
This ride is limited to 20 places!! Book as early as possible to avoid disappointment.
DON'T FORGET to register your name on our website before arriving at your hotel to ensure you don't miss out on our epic rides.
What is the price of group rides?
1) A single ride, on any day, is 50 Euro*
2) The STEX super value package offer:
- 3 consecutive riding days: Euro 135*
- 5 consecutive riding days Euro 200*
Check out our program >>>>
* no refund on cancellations less than 5 days prior, or no-shows
These prices are available only for registered STEX CYCLISTS!